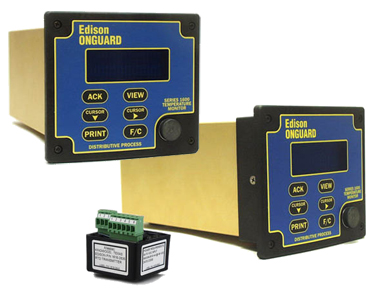 Edison Onguard Model 1616 RTD-Thermocouple Temperature Monitor
The Edison model 1616 monitor is designed to provide simultaneous, continuous surveillance to monitor motor or other equipment's temperature for overheating. The RTD or thermocouple temperature is compared to the pre-selected trip points set by the customer, and when the temperature equals or exceeds the pre-selected value, a dedicated alarm relay will trip. The alarm detail can be viewed to identify the location and sensor information. Two temperature set-points are available for each channel. Each channel has a dedicated alarm relay for the higher temperature, and there is a common relay for the pre-alarm set-point.
Each channel allows a memo to be inserted in a field that can be displayed in the event of an alarm. Incoming alarms can be viewed in detail at the display, while the event results are saved in a history text file. The 1616 monitor accepts industrial standard RTD inputs for Nickel, Platinum and Copper characteristics. Thermocouples can coexist on the same bus as the RTD's. There is no calibration required for the monitor.
Programming is implemented by utilizing a standard USB PC keyboard, temporarily connected to the front bezel. Preset temperature values can be programmed into the monitor as well as sensor - specific messages. At completion of programming, a configuration report can be printed out for review. History reports are available and can be viewed on the monitor or printed via a USB memory stick.
A 4-wire bus extends from the monitor to addressable field transmitters. Each transmitter accommodates an RTD or thermocouple electrical connection and has a unique address that communicates to the monitor. The transmitters allow long lengths of sensor wiring without losing temperature accuracy.
Open or shorted RTD's will initiate a fault menu to identify exactly where the problem exists. When the monitor is entered program mode, a fault will be issued. A dedicated fault relay will change state upon a fault or when the monitor is in program mode.
Typical Applications
Process control
Rotating equipment
Nuclear power plants
Large motor bearings
Refrigeration systems
Coal-fired power plants
Scientific and laboratory
Infrastructure diagnostics
Co-generation turbine plants
Pipeline transmission facilities
Remote gas pumping stations
Temporary diagnostic monitoring
Function
Enable/Disable control for each channel
Selectable options for alarm on rising or falling
Character field to allow naming of each RTD or T/C channel
Selections available for latching or non-latching alarm relays
Internal failsafe fault relay changes state on an open or shorted RTD
User Interface
Time and date calendar
Security code required for accessing programming
Custom messages appear on the display when an alarm occurs
USB port allows history of events to be copied to a memory stick
Easy to read blue 4-line X 20-character active matrix vacuum fluorescent display
Monitor is programmed with a customer's USB keyboard temporarily connected to the front panel
Optional connector for remote operation of panel keypads, to incorporate an explosion-proof housing
Electrical/Electronic
Selection for E-J-K thermocouples
Selection for Nickel, Platinum 8 or 11 and Copper RTDs
110V - 230 VAC or 24 VDC power supplies are available
Sensor linearization is implemented within the microprocessor
Powerful 24bit microprocessor-based monitor reads field RTDs
All electrical connections are accessible from rear terminal strips
Mechanical
Dust and splash-proof front bezel assembly is IP66 rated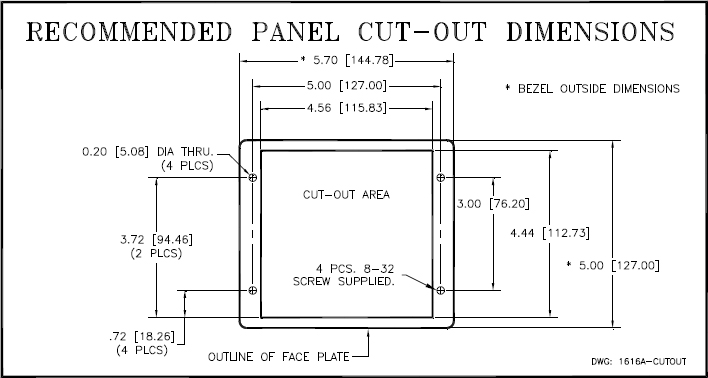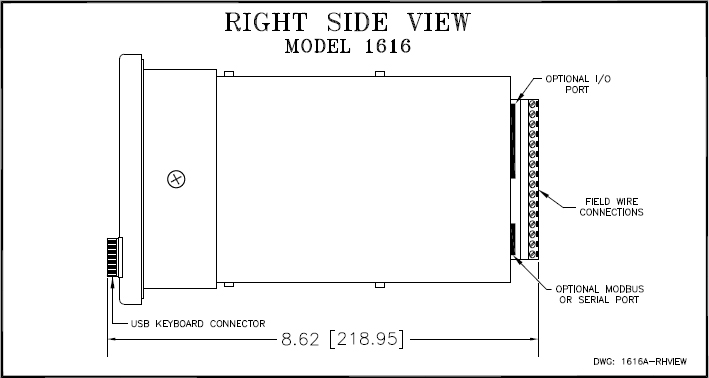 Side view of temperature monitor indicating total length. Optional modbus and 4-20mA outputs will be
available soon.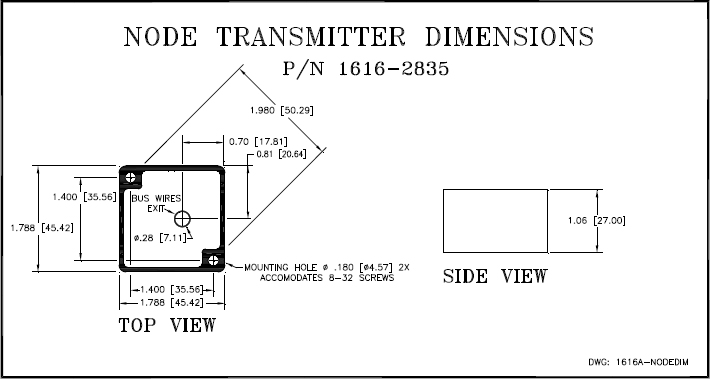 RTD and thermocouple transmitters can be installed in thermowell housings. The monitor bus is daisy
chained to each transmitter. Transmitter quantity from 1 to 16 units can be installed on the system.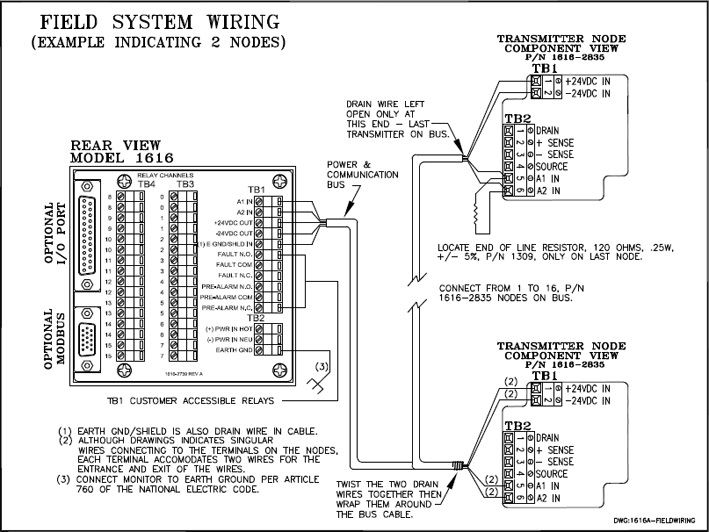 Specifications of the Edison Onguard Model 1616 RTD-Thermocouple Temperature Monitor
Electrical
Monitor requirements:
95-260 VAC, 50-440 Hz @ 9 watts quiescent, maximum 14.5 watts, all relays energized.
Accuracy @ 72°F, 22°C specified from sensor input to display output:

| | | | |
| --- | --- | --- | --- |
| Sensor Style | Accuracy | Degrees F | Degrees C |
| Platinum #8 | +/- 1% | -202 to 1544 | -130 to 840 |
| Platinum #11 | +/- 0.5% | -202 to 1364 | -130 to 840 |
| Nickel #1 | +/- 0.5% | -94 to 572 | -70 to 300 |
| Nickel #7 | +/- 0.25% | -94 to 572 | -70 to 300 |
| Copper #15 | +/- 1% | -58 to 482 | -50 to 250 |

DC OHMS scale range
0-512 OHMS range:
Allows measurement of RTD resistance within the specified RTD
characteristic temperature scale as indicated in the manual.
Resolution:
1° Displayed
Clock / calendar / data:
Memory retained for 48 hours if input power is lost.
Memory:
Configuration and history data retained in nonvolatile memory.
Remote keypad:
Optional connection for remote keypad operation.
Output relay ratings alarm & fault:

DC Resistive 5A, 30V
AC Resistive 8A @ 277 VAC
AC Inductive 7A @ 125 VAC, 3A @ 277 VAC

Display
Display:
4-character high X 20-character wide vacuum fluorescent, blue
display (active ambience).
Action:
Display remains at 80% of luminescence after 15 minutes of inactivity, and returns to full intensity with any alarm action.
Mechanical
Mechanical:
IP-66 Rating in front of mounting panel.
Mounting orientation:
Any axis
Case:
Aircraft-quality 5052 1/16" thick aluminum, gold alodine electroplated. Polycarbonate bezel.
Environment
Operating temperature:

0 to 150°F, -18 to 65°C, 0 to 90% humidity, non-condensing.

Case
Aircraft-quality 5052 1/16" thick aluminum, gold alodine electroplated. Polycarbonate bezel.
Weight
Monitor weight:
3.1 lbs (1.405 kg), 50 oz.
Transmitter weight:
3.2 oz. (0.090 kg)